Jakarta
–
India made history by operating its first locally made aircraft carrier, INS Vikrant. This aircraft carrier has actually been launched since 2013 and was originally due to enter the Indian Navy service in 2018. But finally, it was officially on duty starting this year. Then what are the specifications of the Indian aircraft carrier, INS Vikrant?
INS Vikrant underwent its first sea trials on August 4, 2021. The aircraft carrier design was designed directly by the Directorate of Naval Design (DND) of the Indian Navy under the Ministry of Shipping. The shipbuilding was carried out by Cochin Shipyard Limited, which is based in Kochi, India.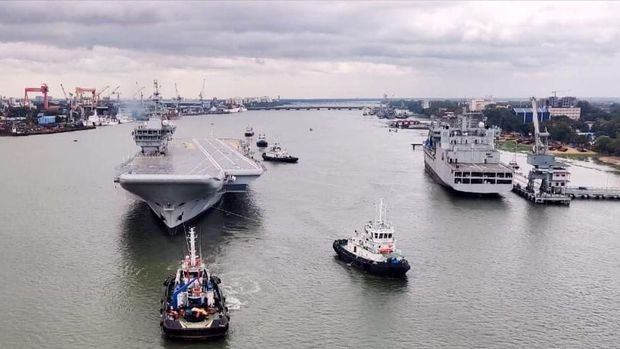 India's first aircraft carrier, INS Vikrant Photo: Instagram @indiannavy
As a local product carrier (Indigenous Aircraft Carrier), INS Vikrant uses more than 76% of domestic components. The shipbuilding process from design to completion is done domestically, with high quality iron and steel materials produced by state-owned companies.
Structurally, the carrier has an overall length of 262 m, an overall width of 62 m, an overall height of 59 m and 40,000 thousand tons. It has 14 decks in total and includes 5 decks in the superstructure.
The INS Vikrant has more than 2,300 compartments, designed for a crew of about 1,700 personnel, including a special cabin to accommodate female officers. The carrier can accommodate 30 warplanes and helicopters, including Mig-29K fighter jets and Ka-31 helicopters.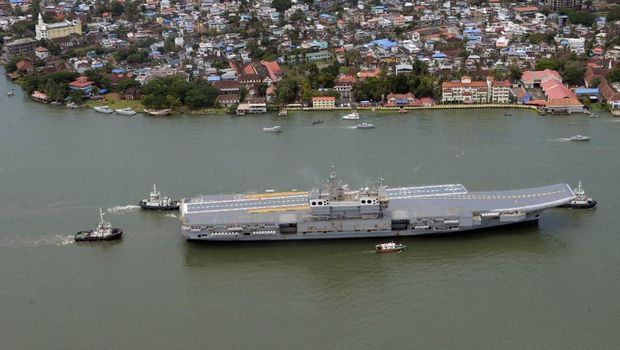 India's first aircraft carrier, INS Vikrant Photo: Instagram @indiannavy
The ship is designed with a high degree of automation for engine operation, navigation and survivability. The Vikrant is claimed to have a top speed of about 28 knots and a cruising speed of 18 knots, with an endurance of about 7,500 nautical miles.
With the presence of the INS Vikrant, India currently has two aircraft carriers. India's first aircraft carrier was an ex-Soviet aircraft carrier, previously named Admiral Gorshkov, then changed to INS Vikramaditya. The carrier INS Vikramaditya has been serving in the Indian Navy since 2014.
Both INS Vikrant and INS Vikramaditya have the same exterior model, where both have a ski-jump, namely the front of the ship that has an upward curved ramp. The ski-jump feature allows the ship to take off on aircraft carriers that have short runways.
(lua / lth)