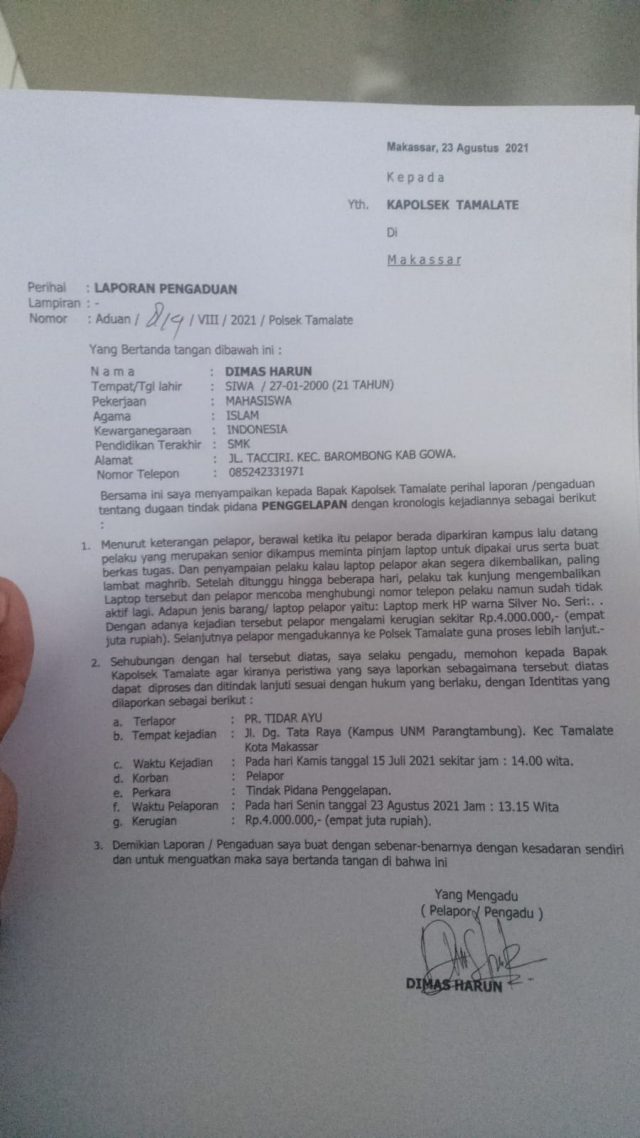 PROFESI-UNM.COM – One of the Mechanical Engineering Education students, Dimas Harun, reported a UNM alumni named Tidar Ayu to the South Sulawesi Police, Makassar City Resort, Tamalate Sector, Monday (23/8).
This is after he became a victim of laptop embezzlement. He admitted that he lent the laptop to the perpetrator. But apparently the laptop was taken and not returned until now.
According to Dimas, Tidar Ayu contacted him by phone on July 14 to borrow a laptop and claimed to be a 2011 PTP Alumni.
When he wanted to borrow, Tidar Ayu tried to convince the victim that he didn't have to be afraid of losing his laptop because he could be found at the house of one of the PTP lecturers.
"Na chatka said I'm not going to stay overnight, I'll use your laptop, if you're afraid you'll lose your laptop, just come to the lecturer's house," explained Dimas.
Unfortunately for Dimas, when he confirmed the existence of Tidar Ayu who borrowed his laptop, it turned out that the PTP lecturer admitted that he had kicked him out for a long time because he had also been deceived.
"Lamami I kicked the child out, because have you ever cheated, I took the money for my treatment," explained the PTP lecturer.
The 2018 student had time to communicate with Tidar Ayu. He sent a message via WhatsApp asking that his laptop be returned. But it is only read without replying and all social media accounts are deactivated.
"Yesterday I called, but they didn't pick up. Then when he chatted, he asked who, I answered, Dimas, we borrowed his laptop but we haven't returned it but we didn't reply," he said.
Lastly, he advises not to trust people too quickly so that incidents like what he experienced do not happen again and happen to other people.
"Hopefully my friends don't experience something like me, just let me know," he hoped.
According to information, the perpetrator had several times carried out his actions against several students. Several students and lecturers have been victims of this fraud.
*Reporter: Annisa Puteri Iriani