TIMESINDONESIA, MALANG – Sulaiman, a farmer in Duwet Village, Tumpang District, looks enthusiastic to harvest his chili plants, Thursday (19/8/2021). Not far from Mount Bromo, the harvesting activity that day looked different.
Not the middlemen he usually supplies. But the harvest will be sold through Kedai Sayur, an application that facilitates the sale of various types of vegetables.
This 38-year-old farmer is one of 14 farmers who are included in the Association of Farmers Groups (Gapoktan) in Tumpang who are participating in the collaboration of the agricultural digitalization movement.
Two months ago, on June 13, 2021, the collaboration towards agricultural digitalization was initiated by the Insan Cita Agro Madani Indonesia Foundation (Icam Indonesia Foundation). Together with Gapoktan Tumpang, they collaborated with BRI Agro and fintech I Grow to access capital. Then the vegetable shop as an off taker. And the technology supporting service provider is Telkom Agree.
The Chairperson of the ICAM Foundation, Dr Edi Purwanto said that this collaboration towards agricultural digitization was carried out to overcome two main problems of farmers so far. Namely capital and marketing.
"In agriculture there are two main and classic problems of capital and marketing but there is one component that cannot be ignored using technology. This is precisely what composes the main problem," he told TIMES Indonesia, Saturday (21/8/2021).
This collaboration also involves various parties. BRI Agro as a banking party then collaborated with I Grow for its financial technology application.
"So far, farmers have borrowed from titil banks with high interest rates, then we collaborated with banks whose interest rates were not too high, so BRI Agros entered because there was a common vision," said the man who is familiarly called Edy Ortega.
For the marketing aspect, Kedai Sayur was chosen. But according to Edy, this is still not enough. Because technology in implementation in the field is needed. Telkom through Telkom Agree provides technology for agricultural cultivation.
"Our cultivation is assisted by technology by Telkom with a fertilization system and others including pest control so that it is better. So from upstream to downstream, from capital to marketing, everything has been digitized," he explained.
This week, the farmers in Tumpang who participated in the agricultural digitalization program started harvesting. Edy admits that not all of the agricultural products that have been cooperated are marketed.
"In the early stages, not all of them were taken because surely they also considered quality. This week, the chili harvest has started, not many have just started gradually, yes around 20-30 kg, "said the man who is also a lecturer at Brawijaya University.
"In the MoU, chilies and tomatoes. Furthermore, it will be expanded to commodities of large potatoes and chilies. Now trial the product first. If it's okay, it will be expanded," continued Edy.
The use of agricultural digitization, especially in the marketing aspect, is also able to protect farmers, especially in horticultural prices. According to Edy, the presence of Kedai Sayur is able to cut the marketing chain so far. They also do not restrain farmers from selling their products anywhere.
"We use a profit-for-loss pattern. So, for example, if the chili price is high, Kedai Sayur will still provide an appropriate benchmark. But when prices fall, they continue to buy at high rates," said the man who now also serves as the Coordinator of the East Java KAHMI Presidium.
For Edy, information technology-based agriculture is a must. There are cost efficiencies to be had. Contraol to cultivation is also measured using technology.
"Right now, it is only in the Tumpang area because the consideration is that it is a fostered group and is able to provide the products demanded by the marketers. But if this collaboration goes smoothly, then other areas will certainly be developed," he said.
Other areas in Malang Raya such as Wajak District, several areas in Batu City to Ngantang District, Malang Regency are the next plan for this agricultural digitalization collaboration.
Like it or not, like it or not, it must be digitized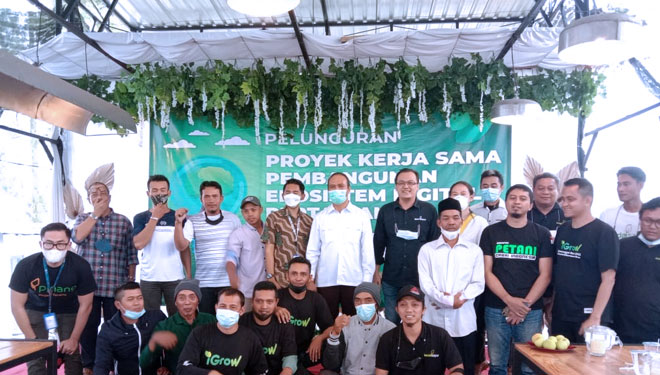 The collaboration process between the Icam Foundation, BRI Agro, Kedai Sayur, I Grow, Telkom and Gapoktan for the agricultural digitization process (Photo: ICAM Foundation for TIMES Indonesia)
"We like it or not, we will go that way towards digitization, it is unavoidable," said Imam Sofii, the founder of Gapoktan in Tumpang District, to TIMES Indonesia, Saturday (21/8).
Imam realized that in the next 5-10 years the direction would be in that direction. Especially consumer and market habits which are also heading towards digitization. But he is aware that this requires a process. Personally, at first he stuttered about the collaboration in agricultural digitization that they are now participating in.
"This is a new thing for us because digital technology has just been introduced from financing to distribution of goods. Of course because so far we are conventional. With this new innovation, we welcome it," he explained.
One advantage that has been felt by farmers with the entry of agricultural digitalization, according to Imam, is that the marketing chain is no longer long. He said there are at least four chains that must be passed before farmers' products reach buyers in conventional markets.
"From the collectors to the market middlemen and then to the dealers, to retailers and consumers. For example, every post there is a difference of 5000 if the price is above 50,000 so there is a difference of 20,000. This is what farmers don't feel," he said.
The presence of Kedai Sayur as an off taker makes the marketing chain simpler. But the off taker in determining the price also follows the current market price.
"At least this for farmers can add another market. Off takers also buy at a price above the middleman but still below the market price. So this protects the farmers," said Imam.
With this collaboration, farmers in Tumpang also feel protected by the agreed MoU. Imam said that for the price there was an agreement on setting the price for the upper and lower limits.
"We will still follow the market price later the profit will be divided in half by the off taker. Now, for example, if the market price is below, the loss will also be divided in two," said the man who lives in Wajak District, Malang Regency.
Not only prices, the presence of agricultural digitalization also makes the planting process carried out by farmers can be monitored properly.
"If we are farmers, we report it manually to Agri Telkom. Those who will report with their system. It will be seen how much fertilization costs, how much processing to the condition of the plants, "explained Imam.
This week, Imam acknowledged that it was the first time for farmers in Tumpang to send their crops to the off taker at Kedai Sayur. "It's still only 20 kilograms according to what is needed. The product is chili," he added.
Maybe now Solomon and 13 other farmers only send 20 kg. However, the farmers in Tumpang are optimistic that with digitalization, their agricultural land will be more optimal.
SOE Collaboration to the Support of the Ministry of Communication and Information of the Republic of Indonesia
Agricultural digitization is also fully supported by the Government through State-Owned Enterprises (BUMN). One of them is the presence of PT Bank Rakyat Indonesia Agroniaga Tbk (BRI Agro) for farmers in Tumpang.
In this digital ecosystem, BRI Agro will channel loans through the iGrow digital platform. iGrow itself since 2014 recorded the distribution of funding to partner farmers amounting to Rp333 billion.
Director of Retail Agri and Funding of BRI Agro Sigit Murtiyoso said this step is also one of the strategies to build digital infrastructure for the gig economy.
"The purpose of this collaboration is to expand access to banking, especially for people from various business sectors to be able to produce accurate data, especially now from the agricultural sector," said Sigit.
According to him, the project also provides education about the use of technology to make work easier and optimize the opinions of the gig economy. In addition to iGrow, collaboration is also carried out with Kedai Sayur as the off taker who absorbs the production of farmer groups.
"Meanwhile, for loan monitoring activities, we are collaborating with Telkom Indonesia through its application, namely Agree for agribusiness management including land development, as well as making predictions on the quality and quantity of crop yields from customers' agricultural commodities," explained Sigit.
Furthermore, Sigit expressed optimism that this collaboration will contribute to the community and the gig economy players. This is because the gig economy players have become one of the pillars of Indonesia's economic recovery.
"In addition, gig economy workers are the embodiment of new MSMEs, and BRI Agro is ready to fully support digital agribusiness ecosystem financing that is useful for improving the welfare of farmers,"
"Through this collaboration, we hope to encourage the acceleration of digital ecosystem financing in order to support BRI Agro's aspirations to become the best digital bank for agri and beyond by becoming a house of fintech and home for gig economy in Indonesia," said Sigit.
Meanwhile, Imam Mashari as the Digital Channel Manager for Telkom Indonesia said that Agree, a collaborative platform supporting agribusiness businesses, has features to monitor agricultural processes, partnerships with capital companies, to sales.
"With this collaboration, it is hoped that the digitization of the agricultural ecosystem will be created which will later play an important role in the creation of national food security," said Imam.
The Ministry of Communications and Information Technology itself pays great attention to the process of digitizing agriculture. In fact, since 2018, the Ministry of Communication and Information has been aggressively conducting socialization of the Go Online Farmer program. A program to encourage the use of technology in order to improve the welfare of Indonesian farmers.
Even today, the digital roadmap compiled by the Ministry of Communication and Information, one of the hopes is to produce unicorns and new digital startups in the digital financial services sector, industrial digitization, entertainment media (digital broadcasting), digital agriculture. and digital fisheries, digital education, digital health, and real-estate or digital cities.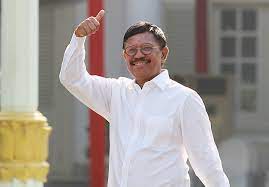 Minister of Communications and Information Technology, Johnny G Plate. (Photo: Jawapos.com)
Digital agriculture is one of the projects projected because of the enormous opportunity given that Indonesia's digital economy in 2025 is projected to grow from USD 44 billion to USD 124 billion or equivalent to 40% of the value of the ASEAN digital economy.
For this reason, the Minister of Communication and Information, Johnny G Plate, said that the government is currently developing massive digital infrastructure and providing government data centers for this digital government service. Which is expected to be utilized for the development of Indonesia's digital economy.
"Downstream from ICT infrastructure is the digital economy itself. Therefore, we must utilize our infrastructure to take advantage of the digital economy. In Indonesia today, the backbone of our economy is MSMEs and Ultra Micro which contributes 61.07% of the national GDP," explained Johnny Plate as reported by the official website of the Ministry of Communication and Information.
The government pays serious attention to Indonesia's 64.2 million MSMEs to be able to go digital onboard, because of the huge potential of Indonesia's digital economy. In fact, the Government has targeted that by 2024, the number of MSME players who are incorporated into the digital ecosystem can increase rapidly to 30 million players through the National Program for the Proudly Made in Indonesia Movement.