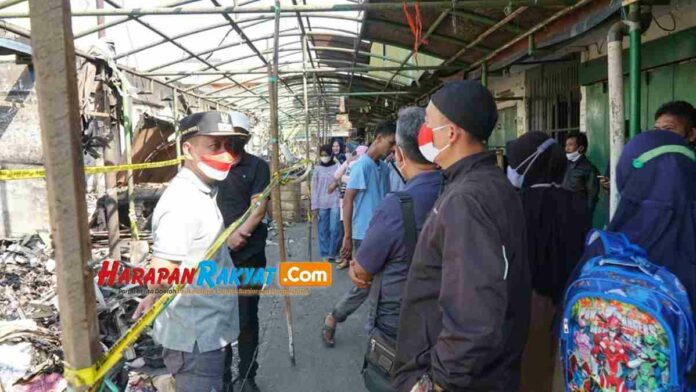 Tasikmalaya News, (harapanrakyat.com),- Deputy Regent of Tasikmalaya H Cecep Nurul Yakin promised to find a solution for traders who were victims of the Ciawi Market fire.
Cecep visited the location of the fire after the commemoration ceremony of the 76th Indonesian Independence Day, Tuesday (17/8/2021).
"After I just went to the location of the Ciawi Market fire, it turned out that yes, there were dozens of shops and kiosks that were burned down," he said.
While at the location, Cecep had a chance to discuss with representatives of fire victims who are members of the Ciawi Market Traders Association (HIPAS) accompanied by the Assistant for Economics and Development who is also the Head of the Industry and Trade Office of Tasikmalaya Regency.
"So God willing, tomorrow, Wednesday, we will discuss with various parties, namely the traders whose stalls burned down who are members of HIPAS, Ciawi Police, Tasikmalaya Police and related elements to conclude what steps we should take," he said.
Baca Juga: Kios Kosmetik yang Terbakar di Pasar Ciawi Tasikmalaya Rugi 2,5 Miliar
According to him, Ciawi Market is one of the centers of the community's economic movement. So that during the current Covid-19 pandemic, Ciawi Market needs to operate again.
"The Covid-19 pandemic is currently difficult. So we, the local government of Tasikmalaya, are worried that if the market is too inoperable, it will disrupt people's economic activities," he said.
Cecep added that in addition to directly observing the location of the fire, he also encouraged efforts to clean up after the fire.
"God willing, I, as the Deputy Regent of Tasikmalaya, will be present today in the midst of the Ciawi market traders, to inspect the field. We will find a solution to restore shops and kiosks that were affected by the fire," he concluded. (Apip/R7/HR-Online)
Editor: Ndu